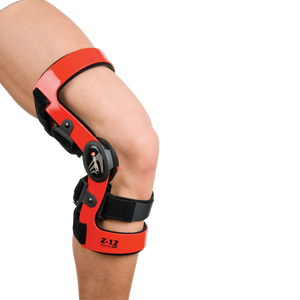 Z-12 Adjustable OA
Regular price
Sale price
$850.00
---
This dual upright design features an adjustable condyle building up to an additional 12° of correction into the brace.
Product Description
The Z-12 is for a patient with an active lifestyle who may need additional support from a dual upright brace due to ligament instability. The adjustable condyle will allow patients to make minor load adjustments by sliding the loading lever through seven settings. The Z-12 frame is made of magnesium – our lightest-weight OA brace.
Provides relief from the symptoms of OA while stabilizing the knee and protecting the ACL, PCL, MCL and LCL. 
This brace is a great option for older, smaller patients as it is shorter and can be made in our lighter-weight material, magnesium. It unloads the joint by pushing with an adjustable dial.
The difference between Medial and Lateral OA braces refers to the afflicted side that will be offloaded to help with pain relief. The Medial OA brace would unload the medial compartment for Medial OA, while the Lateral OA brace would unload the lateral compartment for Lateral OA. 
Product Features
Low-profile frame

Adjustable condyle to increase load adjustment

Pivoting gastroc strap design helps minimize brace migration

Up to 12° of correction from condyle pad
Indication
Unicompartmental OA
Unicompartmental OA / meniscal instabilities with ligamentous injuries
Required Measurements 
Thigh circumference measure 6" (15 cm) above mid-patella. Calf circumference measure 6" (15 cm) below mid-patella. Brace Length: Standard 13" (33 cm), Extended 15" (38 cm).
| Size # | Size | Thigh Circumference | Standard Calf Circumference | Athletic Calf Circumference |
| --- | --- | --- | --- | --- |
| XX = 01 | XS | 13.5" – 16" (34 – 41cm) | 12.5" – 14" (32 – 36cm) | 11" – 12.5" (28 – 32cm) |
| XX = 03 | S | 16" – 18.75" (41 – 48cm) | 14" – 15.5" (36 – 39cm) | 12.5" – 14" (32 – 36cm) |
| XX = 05 | M | 18.75" – 21.5" (48 – 55cm) | 15.5" – 17" (39 – 43cm) | 14" – 15.5" (36 – 39cm) |
| XX = 07 | L | 21.5" – 24.25" (55 – 62cm) | 17" – 18.5" (43 – 47cm) | 15.5" – 17" (39 – 43cm) |
| XX = 09 | XL | 24.25" – 27" (62 – 69cm) | 18.5" – 20" (47 – 51cm) | 17" – 18.5" (43 – 47cm) |
| XX = 11 | XXL | 27" – 29.5" (69 – 75 cm) | 20" – 21" (51 – 53cm) | 18.5" – 20" (47 – 51cm) |